Make a FREE Caricature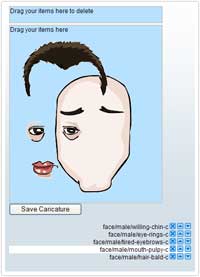 You are the Caricature Artist !
Have some fun by being a caricaturist. You need not to know how to draw, PY already pre-design all the caricature components for you. Compose the caricature as easy as drag drop and positioning the components. By pressing the SAVE button, your creative works ( all caricature components ) will be save as one image.
The Original Caricature Maker script was provided by Newaygreeting.com